Posted by Mike Belk on Apr 02, 2023
As the weather gets colder, many people start thinking about cozying up by a warm fireplace. If you plan to add a fireplace or upgrade an existing one, consider using cement or ceramic tile to give it a modern and stylish look. However, designing a fireplace with cement or ceramic tile requires careful planning and attention to detail to achieve the desired result.
To help you create a stunning fireplace that will be the centerpiece of your home, we've put together 5 tips for designing fireplaces with cement or ceramic tile. From choosing the right materials to selecting the perfect pattern, these tips will help you create a one-of-a-kind fireplace you'll love for years.
So, whether you're a DIY enthusiast or working with a professional designer, keep reading to learn how to create a beautiful and functional fireplace using cement or ceramic tile. Following these tips, you can design a fireplace that will keep you warm and comfortable during winter while adding a touch of style and elegance to your home.
Tip 1: Choose the Right Material
Choosing the right material is crucial when designing fireplaces with cement or ceramic tile. Both cement and ceramic tile are excellent choices for fireplaces, but they have different properties that make them suitable for different applications.
Cement tiles are durable and can withstand high temperatures without cracking or breaking. They are also available in various colors and patterns, making them a versatile option for fireplace design. However, cement tiles can be prone to staining and may require sealing to protect them from water damage.
On the other hand, ceramic tiles are less durable than cement tiles but offer a wider variety of shapes, sizes, and textures. They are also more resistant to staining and water damage, ideal for moist areas. However, ceramic tiles may crack or chip if exposed to high temperatures, so you can use these tiles in areas that are not directly in contact with the fire.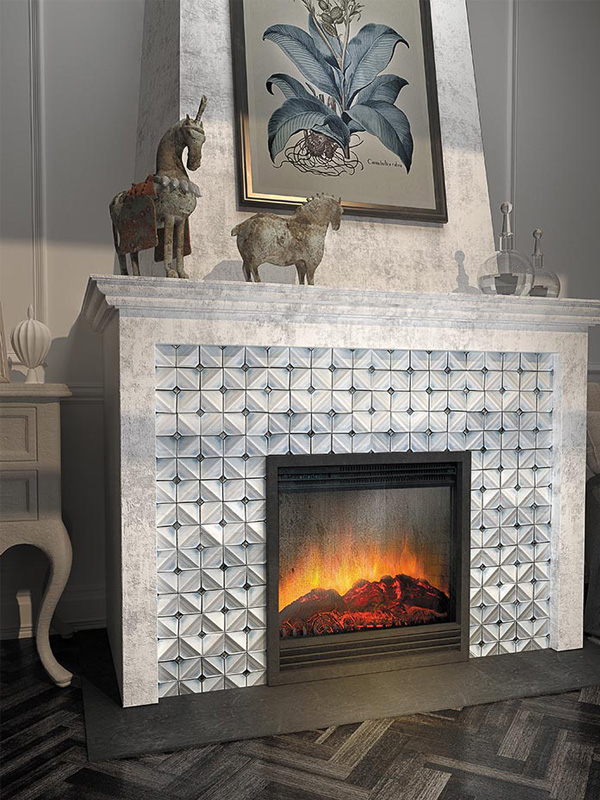 When choosing between cement and ceramic tiles, consider your priorities and the specific needs of your fireplace. Cement tiles may be the best option if you want a material that can sustain high temperatures and come in a wide range of colors and patterns. Ceramic tiles may be the better choice if you want a more resistant material to staining and water damage.
Tip 2: Style Your Fireplace
Styling your fireplace with cement or ceramic tile can add a personal touch and create a unique look that reflects your style. Here are some tips for styling your fireplace with tile:
Choose a pattern:
Whether you want a classic herringbone or a modern chevron, there are countless patterns to choose from when tiling your fireplace. A pattern can add texture and interest to your fireplace and help tie in other elements.
Mix and match:
Feel free to mix and match different types of tiles to create a unique look. Combining different colors or textures can add depth and dimension to your fireplace and create a one-of-a-kind design.
Consider contrast:
Using contrasting colors or materials can create a striking effect and draw attention to your fireplace. For example, pairing light-colored tiles with dark grout can create a bold and modern look.
Accent with trim:
Adding a trim around the edges of your fireplace can create a polished and finished look. Consider using a contrasting color or material for the trim to create a visual border around the fireplace.
Add a hearth:
A hearth can add a cozy and traditional touch to your fireplace. Consider using a different tile or material for the hearth to create a visual separation from the rest of the fireplace.
When styling your fireplace, it's important to consider the overall style of your home and how the fireplace fits into that style. A traditional fireplace with classic tile may be more appropriate for a traditional home, while a modern fireplace with bold patterns may be better suited for a contemporary home.
Tip 3:Consider Your Room's Color Scheme
When designing your fireplace with cement or ceramic tile, it's important to consider the room's color scheme. Here are some tips for choosing your room's color scheme for your fireplace design:
Complement the existing color palette:
Consider incorporating those colors into your fireplace design if your room has a specific color scheme. This can help tie the room together and create a cohesive look.
Use contrasting colors:
If you want your fireplace to look outstanding, consider using contrasting colors that complement but do not match the existing color scheme. For example, a bold-colored tile can create a striking focal point if your room is primarily neutral.
Create a monochromatic look:
If you want a more crafty look, consider using shades of the same color for your fireplace tiles. It creates a monochromatic look that is both sophisticated and understated.
Add pops of color:
If you want to add pops of color to your room, consider using colorful tile accents on your fireplace. This can be a great way to incorporate bold colors without overwhelming the space.
Don't forget about texture:
Texture can add visual interest and dimension to your fireplace design. Consider using tiles with different textures in the same color family to create a dynamic look.
When considering your room's color scheme, it's important to think about the overall mood and atmosphere you want to create. A well-designed fireplace can enhance the look and feel of your space, so take the time to carefully consider your color choices and how they fit into the overall design of your room.
Tip 4:Frame the Firebox with Cement or Ceramic Tiles.
Framing the firebox with cement or ceramic tiles is an excellent option to add a decorative touch to your fireplace. This design tip can be achieved using patterned cement tiles, decorative border tiles, or liner tiles. You can also use different color tiles, molding, or tile formats to create a unique and eye-catching design.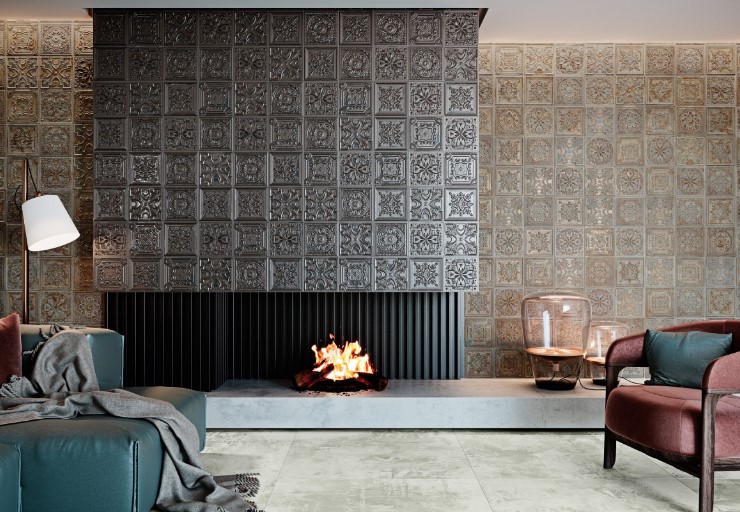 For example, if you're tiling your fireplace with 6"x6" tiles, consider using 3"x3" tiles to frame the firebox. Even if other design elements like tiled murals, medallions, or panels are used, you can still incorporate a tile frame around the firebox, as shown in the fireplace design image above.
You can use a cement tile border pattern, a decorative liner or listello tile, or a few decorative tiles depending on your preference. In contrast, plain tiles provide the detail and outline of the firebox. By framing the firebox with decorative tiles, you can create a focal point in the room and add a touch of sophistication and style to your fireplace.
Tip 5:Experiment with Geometric Shapes and Patterns:
Another way to add visual interest to your fireplace design with cement or ceramic tiles is to experiment with geometric shapes and patterns. For example, you can use hexagonal tiles or a herringbone pattern to create a modern and stylish look. Alternatively, you can use diamond-shaped tiles or a chevron pattern to add a unique and playful touch to your fireplace.
Mixing and matching different shapes and patterns can create a stunning visual effect. For instance, you can combine square and rectangular tiles to create a mosaic-like pattern. You can also try alternating colors or textures to create a dynamic and captivating design.
Remember, the key is experimenting with different shapes and patterns to find the one that best suits your style and complements your decor. By incorporating geometric shapes and patterns, you can add a contemporary and artistic touch to your fireplace design and create a beautiful focal point in your room.
Conclusions:
In conclusion, the first thing to do is choose the right material for your fireplace, like cement tiles or ceramic tiles, which is suitable for you. And then choose patterns. You can mix and match colors or use contrasts. Just select the one you want or think looks pleasing to your eyes. Do everything that fits your budget and what you like the most. In the end, after choosing anything, it is also prescribed to contact a professional to get word from him about how to stylize your fireplace. The professional will help you make your fireplace look exactly like what you want. Hire a professional DIY enthusiast - to ensure proper installation and a flawless finish.
FAQs:
(:1f539:)Which One is Best, Cement tiles or Ceramic tiles?
Cement tiles are one of the best options if you want to keep tiles near high-temperature areas. But ceramic tiles are the best option if you want to use tiles to avoid water or other damage.
(:1f539:)Can I install cement or ceramic tile on my fireplace myself?
While installing cement or ceramic tile on a fireplace yourself is possible. It is only recommended if you have experience working with these materials and are confident in your abilities. Improper installation can lead to safety hazards and damage to your home.
(:1f539:)How do I clean and maintain a cement or ceramic tile fireplace?
Use a non-abrasive cleaner and a soft cloth or sponge to clean cement or ceramic tile. Avoid using harsh chemicals or abrasive scrubbers that could damage the surface. It is also important to regularly inspect the fireplace and have any cracks or damage repaired promptly to ensure the fireplace remains safe.