Posted by Mike Belk on Dec 07, 2018
17 Incredible Ways to Use Herringbone Tiles
Itching to redo some (or all) of your home?
With so many options out available, there seems to be a desire to steer clear of fads and revisit the time-honored options that never go out of style.
Herringbone tiles are a classic design that is currently having a major resurgence in the design world.
The sophisticated look is versatile and can be used on your floors in any room, as a kitchen backsplash or even to create a one-of-a-kind feature wall in your home.
Here are 17 ways to use the timeless Herringbone tile pattern!
(:1f539:)1. What Pattern for Your Herringbone Tiles?
This is the first step when working with this pattern.
There are two main styles when it comes to a herringbone tile design in the home. One option is to lay the tiles on a diagonal. This is the classic herringbone pattern you've likely seen in interior design magazines.
The other option is to align the tiles in a ninety-degree pattern, giving the space a more modern feel.
You can use the exact same tiles for either pattern, it's simply about creating two different aesthetics and deciding which you prefer.
There is no wrong choice, but be sure whichever pattern you go with aligns with the vibe of the rest of your home.
2. Subway Tiles
Using a longer shaped subway tile will add a fresh and interesting look to your herringbone tiles.
The longer tiles have a more elegant and artistic feel, making the area of your home where you install the herringbone tiles a focal point for yourself and your guests.
3. Glaze It
Coating your herringbone tiles with a high variation glaze is the easiest way to make the same tiles look unique.
The glaze will bring out different hues of the tile, making some darker and some lighter. This allows you to select a pattern with all the same color tiles but still feel like there is a variance in color range; giving the tiled area dimension and a unique flare.
4. Go Neutral
You don't always have to go with a bright color when using herringbone tiles. The desired effect can be easily achieved using all neutrals.
Try using three different tones of the same color like, off-white or beige. Mix the different tones throughout the pattern for a neutral yet custom and detailed aesthetic.
Your kitchen backsplash is the perfect place to try the neutral technique, especially if you have other colors going on in the space like cabinets or a kitchen island with a pop of color.
A neutral herringbone tile backsplash could be the perfect contrast.
(:1f539:)5. Should you add an Accent Color?
A kitchen backsplash is a perfect time to add a pop of color to your herringbone tiles. Once you've selected your overall color scheme, decide on a contrasting color tile that you can interject occasionally into the existing pattern.
While the goal is to select a contrasting color, be sure it still works with the hues you've already picked so that the accent draws the right kind of attention to it.
For example, if your main palette is in the blue or turquoise family, a great contrasting color selection would be a burnt or muted orange.
Adding an accent color peppered throughout the tiled area gives dimension and depth to your space and ensures your place is giving off those one-of-a-kind vibes to your guests.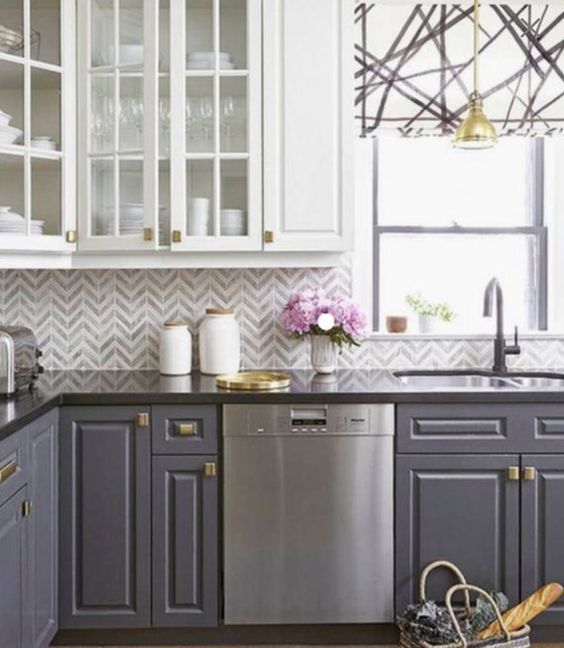 6. Make It Pop
Don't be afraid of color!
Using herringbone tiles is a great way to express your creativity and personalize your living space.
Herringbone tiles aren't just reserved for neutrals and all white patterns. Take advantage of the color variety available to you when working with this look and create something that will make you smile whenever you pass by.
Try picking two bold colors and then select random places within the tiled space to pepper in a white or neutral tile. This will break up the pattern, keeping it from being too hard on the eyes or something you tire of looking at.
7. Make It Zen
If you're taking time to add a unique design element, like herringbone tiles, to your home, you'll want to be sure you're selecting a hue that brings your joy. Your home is a respite, someplace you're excited to return to every day and the design should only enhance that.
Think about what hues make you calm, tranquil and overall feel good. Many of us have specific responses to certain colors and the one you pick should illicit and positive response at all times.
Maybe you respond to a muted blue because it reminds you of the ocean. Or perhaps having different shades of green makes you feel like you're in the forest.
Consider some places in nature that calm you and try to replicate that feeling using the herringbone tiles.
8. Mix Tiles Horizontally
If you're already planning on selecting a few different colors for your tiles pattern, try a different and original way to lay them.
Instead of mixing the colors together in a pattern, create horizontal stripes. This style is in the vein as a chevron floor pattern but it keeps the colors separated so you have different rows of color throughout the space.
This is a fun design you won't typically see in many homes and it makes the tiled space resemble a piece of art.
9. Same Color, Different Tone
Don't confuse this with the choice to use all neutrals for your herringbone tiles . This idea is about selecting a color you love and finding tiles that are the same color with a different tone.
You can truly do this with any color, from whites and greys to reds and yellows. With every color, there are a variety of shades within that same hue.
When designing this pattern, pick the color and tone of that color you like best. From there, you can easily go a shade darker or lighter within that color to find the best matches for your pattern.
Selecting herringbone tiles that are different but the same adds warmth and dimension the tiled area; making it appear truly customized for your home.
10. Wood (Like) Herringbone
Herringbone floors are very trendy right now. They elicit a classic, elegant mood that can make you feel like you've stepped into a Parisian mansion.
A great way to achieve this look in your space is to use ceramic tile floors that look exactly like wood. This choice is typically more affordable and definitely more durable.
Ceramic tile is virtually indestructible so selecting this flooring in lieu of real wood is a cost-effective choice.
There are several varieties of "grains" to choose from; from shades of grey to your more traditional light or darker brown wood.
This is a great look to do throughout your space for a cohesive, durable material that will look elegant and add a bit of dramatic flair to your home.
(:1f539:)11. Can you use it to Tile a Fireplace?
The fireplace is often a focal spot where people gather, so why not make it stand out?
Frame the opening of your fireplace with herringbone tiles for a fun and fresh addition to your home. For the fireplace, in particular, you want to lean into accent colors and steer away from all white or neutrals only.
This doesn't mean the colors have to be bright, but they should play off the other decor in your home and add positively to the space.
If you're going to tile your fireplace, try selecting a color that already exists within the decor of the room and match the tiles to that. Perhaps it's the color of your accent chair. The tile color could even tie in subtly to your curtains or a color in an area rug that you love.
Selecting an already existing color will give you the chance to seamlessly integrate your herringbone tiles while still making them stand out in the best way possible.
If you don't want to commit to a fully tiled fireplace frame, try just tiling the inside back of the fireplace, behind where the wood is placed. It's a subtle way to achieve the same effect.
12. Go Further Than the Backsplash
It's very common to see the backsplash tile begin at the countertop and then end just below the base of the upper cabinets.
Laying your herringbone tiles from the countertop to the ceiling will have a dramatic effect that will make your space seem bigger. The eye will be drawn up, looking at the tile and making your ceilings appear to be higher.
When you're covering this much space with herringbone tiles, you might want to steer clear of a bright pattern, especially in a kitchen which has plenty of other decor elements. This would be the perfect time to use one of the techniques listed above such as neutrals or the same color, different tone.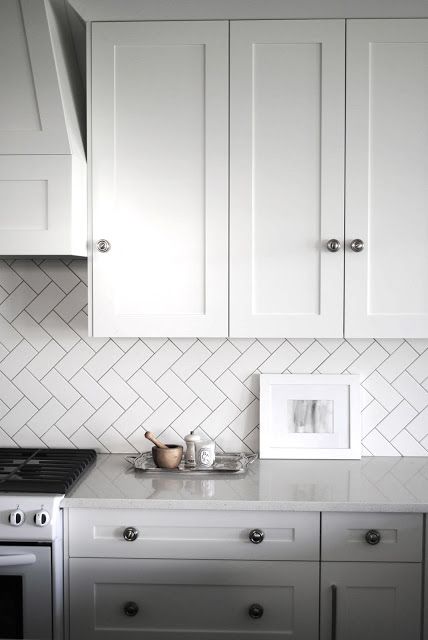 13. Go All White
You can't go wrong with this look. It's clean, fresh and light. It will automatically make your space look bigger and brighter. This look works especially well in kitchens and bathrooms.
The wonderful thing about herringbone tiles is that the pattern stands out even if the color doesn't. Having all white herringbone will offer more dimension and than just straight laid subway tile ever could, making the pattern subtle yet still visible.
14. Switch up the Pattern
This technique is for the risk taker and someone who really wants to make a statement.
Consider switching the pattern or adding an entirely new color to the mix halfway through the floor or wall. This technique works especially well in places like the bathroom where you are doing tile floor and walls.
Try gradually transitioning color and pattern as you work your way from the floor to the wall. This creates dynamic space with more depth. It almost looks an art installation in your home.
15. Go Dark
There is something particularly chic about an all black, dark grey or navy palette. Going dark with your herringbone tiles will add immediate sophistication and elegance to any space.
And similarly to going all white, the pattern of the herringbone tiles will still be seen with an all dark selection.
This technique looks terrific on kitchen floors or bathrooms for a romantic, classic aesthetic.
16. Mix Grains of Wood
Whether you're going with real wood or ceramic tile, you can mix and match colors and grains to create a subtle pattern throughout your floor.
You'll want to decide on a pattern when going with this approach so that the grains are mixed in enough and appear organic, not like stripes along your floor.
Using mixed grains gives the space a warm, eclectic feel as though you've used reclaimed wood on your floors.
(:1f539:)17. Will it work to make a Feature Wall?
Let the tile speak for itself with its very own feature wall. Select a focal point in your home and tile it from floor to ceiling in a single color or mix of colors you desire.
A feature wall with the wood-like ceramic tiles will add warmth to the home and a colorful feature wall in the kitchen or bathroom will easily liven up any space, giving it an instant face-lift.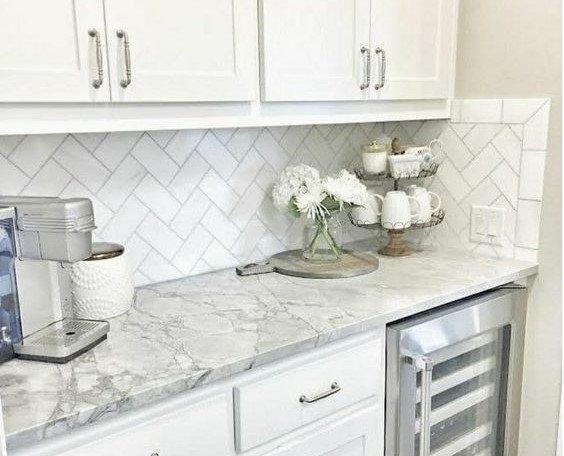 Which Way Will You Go with the Herringbone Tiles?
As you can see there is no limit to what you can do with herringbone tiles. They are a classic, timeless look that easily elevates any space.
You can use them in virtually any room of the house, putting them on your floor, kitchen backsplash or walls. You can also mix patterns and colors or opt to keep it simple and solid.
There is no wrong way to go, it's just about finding what you like best.
The techniques listed above will help you achieve a look that is unique to your home and suits your aesthetic.
We'd love to help you make a decision on your next tile purchase. Don't hesitate to contact us for with any questions about which selection might be right for you.
Be sure to check out our blog for more tile design tips!