Posted by Mike Belk on Feb 01, 2023
When planning a kitchen, many people forget one important detail. Homeowners put a lot of thought into the cabinets and countertops and even the appliances. But for many, the backsplash is a decision left to the end.
However, a kitchen backsplash should be placed higher on the priority list. These tiles are functional, allowing you to wipe off any wayward water or food without the threat of staining the wall. But they also add an aesthetic touch to the room.
Kitchen backsplashes add personality and style to an otherwise standard kitchen. Backsplash tiles can add color, pattern, and texture, which can make the design more visually interesting.
With so many tile options, it can be an overwhelming decision. These ten expert-approved tips will ensure you choose the perfect tiles for your kitchen backsplash.
1. Consider Your Overall Style
You don't want a kitchen backsplash tile to be a last-minute decision, but you also don't want the tile to be the driving force behind the design. You want the tile to be cohesive with your cabinets, counters, and other kitchen design elements.
Consider your style in the kitchen and throughout the rest of the home when choosing your backsplash. Is the space more traditional or modern? Is it colorful and eclectic, or is it simple and minimalist? Or maybe your home is a unique combination of multiple design styles.
Consider how much color the rest of your home uses as well as the general shapes of your throughout your decor. All of these details will inform the right kind of style for your kitchen backsplash tile.
A home that's neutral and minimalist may opt for a simple white subway tile. Or add a little visual interest to minimalism and opt for a white tile in an arabesque shape. A more eclectic style might choose more colors or interesting shapes that will make a statement and draw the eyes around the room.
2. Set a Budget
No matter the scope of the renovation, it's essential to set a budget and do your best to stick to it. Renovations, especially in the kitchen, can get quite pricey, and the budget can get out of hand if you're not carefully watching.
While tiles seem like a small feature on the scale of a larger room, the price can quickly add up. You'll have to buy tile based on the square footage of the wall or walls you're covering. Depending on how much of the wall and how many walls, you may have to purchase a substantial amount of tile.
Tile can also range in price from as little as $8 a square foot to as much as $60 a square foot. You have to keep the cost of the tile itself in mind and what fits into your overall renovation budget.
If you're having the tile installed professionally, you also must factor in the cost of labor. Depending on where you live and who you hire, the cost may be charged by the square foot or by the hour.
3. Try a Unique Layout
The standard layout to lay tile is in a horizontal offset pattern, similar to the way bricks are laid. This is often done with subway tile and provides a traditional and timeless style to the room. However, this isn't the only option you have for laying subway tile.
Consider a stacked layout, either horizontal or vertical, for a modern take on the classic layout. This layout will create a beautiful design with clean, straight lines. Stacked vertically, the tiles will add height to the room, which can make the ceiling appear higher.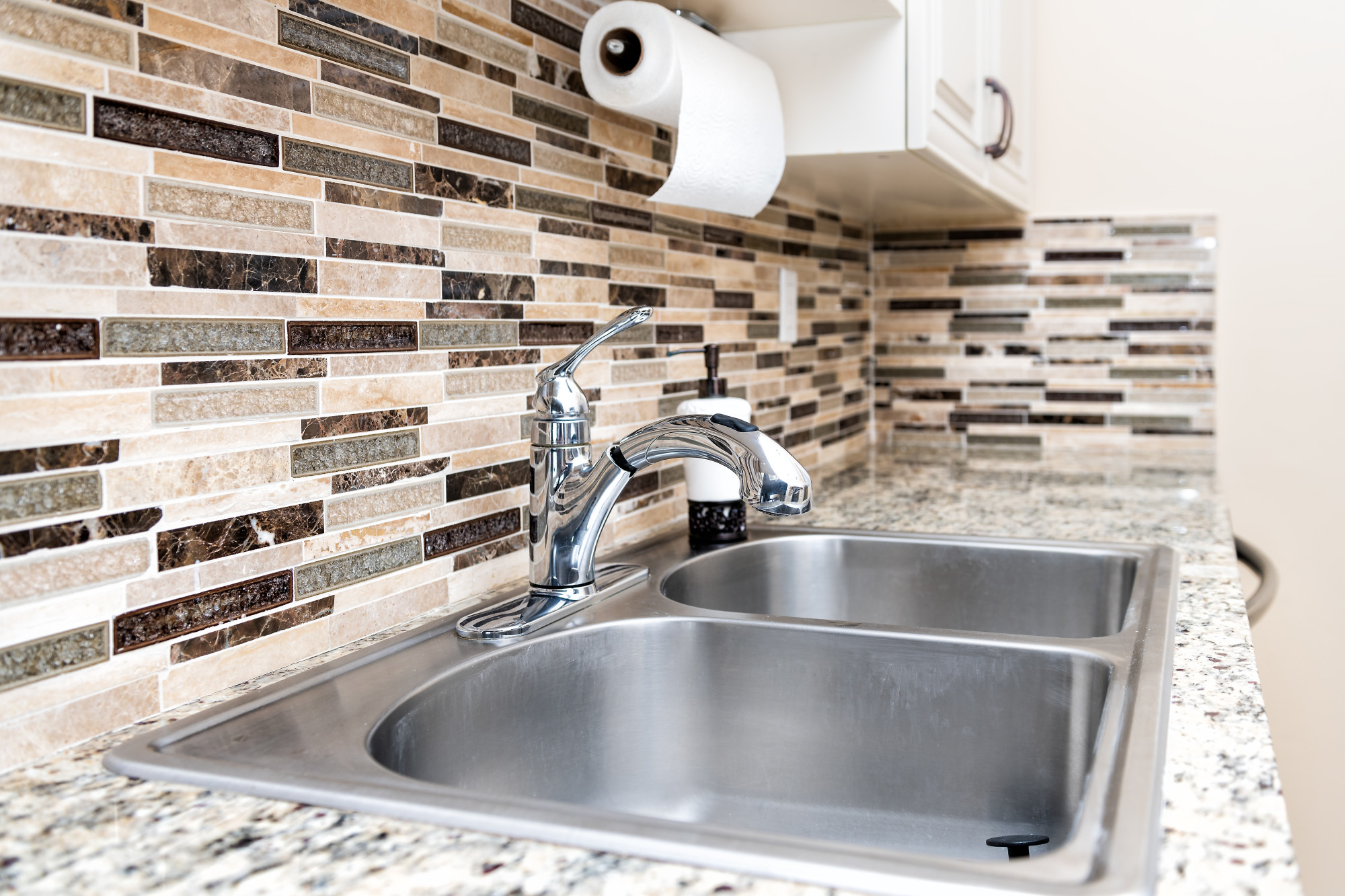 You can also create patterns with the tile by choosing a chevron or herringbone layout. These are two types of stacked V patterns that feel both traditional and modern. Both of these can create movement and visual interest in the space.
A parquet or basketweave pattern are both traditional layouts that can be made modern with sleek tile. Even if you choose a simple tile, a unique layout can make the backsplash a focal point.
4. Don't Underestimate Grout
When choosing a backsplash, most of the focus is on the tile. And while that may be the most important element, you don't want to underestimate what grout can do for your backsplash design.
Grout is what goes in between the tile and helps keep them secure on the wall. It may be functional first and foremost, but you can also make it part of the aesthetic. Traditionally, many homeowners choose either black, white, or gray grout.
Grout and tile that are the same color, such as white grout with white tile, can create a seamless look. This combination is a great way to achieve a sleek slab look on a budget.
If you want more contrast to see the shape of the tile, opt for a grout color that's opposite of the tile color, such as black tile with white grout. This can create a bolder look that really highlights the tile.
However, you don't always have to stick to neutrals. Colors like green, blue, and orange are all grout options, though they aren't as popular as black, white, and gray. For those who want to add a little bit of glamor, adding glitter to grout is also possible.
5. Scale Is Important
Scale has to do with the size of the tiles compared to the space they'll be displayed in. In general, larger backsplashes look more contemporary, while smaller tiles feel more traditional.
You'll want to also consider how much of the room the kitchen backsplash tiles will cover. On a larger swarth of wall, smaller tiles can look busy and cluttered. However, smaller spaces might lose the impact of large-scale patterns. It's important to consider both personal style preferences as well as the space.
If the tile has a pattern, you'll also want to keep this in mind. Large patterns can bring a lot of visual interest to the kitchen, but you'll also want enough space to feature them. If there's an area where you can take tile up to the ceiling, this can provide an area to make a stylish statement.
6. Material Matters
It's incredibly important to choose the right material when it comes to a kitchen backsplash. The best kitchen backsplash is waterproof, stain-resistant, and easy to clean. Not every tile material will have these properties.
Look for durable materials that will stand up to the wear and tear of the kitchen. Ceramic and porcelain tiles are two of the most popular choices for backsplash tiles. They're durable and require little maintenance, so they're ideal for homeowners with busy lifestyles.
Natural stone is an attractive option, but often requires more maintenance than other materials. They'll need to be cleaned regularly and sealed periodically to prevent the tile from becoming stained or discolored. This might not be the best option for those who are on the go.
Metal tiles have gained popularity and can be stunning in the kitchen. However, they can scratch easily, so you have to be mindful of where you place them in the kitchen. Another negative is tarnishing or discoloration. Some metals can react poorly to acidic foods or excess moisture, both common in the kitchen.
7. Play With Color
Use your tiles as a fun chance to get a little more creative with your interior design. You might not want to commit to a large colorful feature like cabinetry, so opt to use colored tiles instead.
Shades of blue and green are popular options because they act as colored neutrals, easily pairing with a variety of interior styles and other colors. But if you're looking for something even bolder, red, pink, orange, and yellow are all gaining some popularity.
If you do choose colored tile, you also have to consider the color of your cabinets and counters. With colorful kitchen tiles, you may want to stick to neutral cabinets and counters for balance.
And when picking out shades of all three elements, undertones will be the most important for creating a cohesive design. Colors, even neutrals, can either have warm or cool undertones. Warn undertones can feel relaxing and calm, while cooler undertones have a crispness to them.
You can mix colors with different undertones to add some visual interest. But if you can't put your finger on why colors seem to be clashing, it might be because of the undertones.
8. Add a Little Texture
You can also make a big visual impact with the texture of the tile. Textured tile can add movement and pattern in a subtle way. It can dress up white or otherwise plain tiles. But they can also be colored if that's more of your preference.
Zellige tiles are a favorite for adding texture. These tiles are handmade and have naturally occurring irregularities in the surface that create an interesting texture both by touch and sight.
Another common way to add texture through tiles is with a beveled edge. A beveled edge lowers down slightly so the center of the tile is raised. These are often done with subway tiles to give a little dimension to the classic style.
You can also find tiles that are made to be textured with ridges and waves built in. These can look beautiful and natural, which is a great addition to add an organic element t the design.
9. Make It a Statement
Statement kitchen design ideas are what will make the room stand out. You can make a huge statement with your backsplash that will make it seem like it came off the glossy pages of a design magazine.
Slab backsplashes are a popular choice because of how they draw the eye to them. Slab backsplashes use large tiles or slabs of natural stone similar to what's used on a countertop to create a seamless look. Opt for natural stone with graphic veining for a large-scale design.
Consider running your backsplash tile up to the ceiling for another way to make a statement. You can tile a wall from the counters up to the ceiling and place open shelving to create a feature in the room. For something that really stands out, you may also opt to continue the tile onto the ceiling for a little more.
Of course, choosing a colorful tile in an otherwise neutral kitchen will also help make a statement.
10. Shape Makes Things Interesting
When many people think of backsplash tiles, the first image that comes to mind may be some form of subway tiles. These rectangular tiles are simple and timeless, which makes them popular. But choosing a tile with interesting shapes can elevate your design.
Round penny tiles can add a playful aspect. Geometric shapes like hexagons and diamonds can add a modern touch to a simple or minimalist design. And arabesque tiles toe the line between traditional and modern. Fish scales are a whimsical option that are sure to add some interest.
Tiles are currently trending with elongated shapes. Elongated hexagons, long and thin rectangles, and diamonds are a favorite among designers. These styles are preferred because they can add length to a kitchen, making the walls appear taller and drawing the eyes up.
Playing with shapes is a great way to add visual interest even with neutral-colored tiles. But if you want to go with a totally bold look, then color plus a non-traditional shape is sure to make a statement.
Transform Your Space With a Kitchen Backsplash
Whether you're cooking a nightly dinner with your family or entertaining your friends, the kitchen quickly becomes the heart of the home. The space should not only work for you functionally, but it should also be beautiful.
Make your home look like a professional had a hand in the design by choosing an eye-catching kitchen backsplash. Beautiful tile that brings color, pattern, and texture to the space will elevate your kitchen design.
Ready to transform your kitchen? Browse our selection of kitchen tiles. You're sure to find the stylish option that's ideal for your space.