Posted by Mike Belk on May 09, 2021
A kitchen should be practical, safe and beautiful in equal measure. Achieving the balance between these three factors is easy if you choose the most appropriate materials at key points in the room. The kitchen backsplash is one of those important elements capable of defining the personality of the space and at the same time protecting its walls from the splashes from cooking.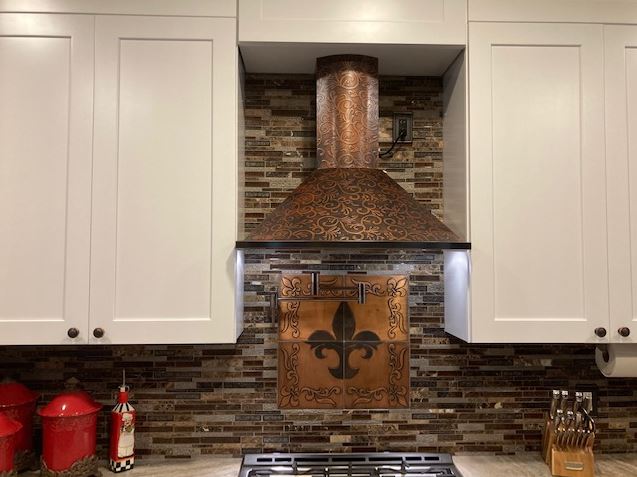 Glass Backsplash Tiles are still Popular:
Tempered glass
The lightest option to protect the back wall of the work area is a 5-6 mm thick tempered glass. It breaks into very small pieces, such as car windshields, providing greater safety. It is considered a good coating for the front of the kitchen, since it provides luminosity, elegance and, above all, cleanliness. Tempered glass favors the reflection of light, an aspect that makes it ideal for small kitchens that require a greater sense of space and light. This type of material can be purchased in a transparent, translucent or colored finish, but it is more expensive than lacquered glass.
Lacquered glass
Heat resistant, lacquered glass is ideal for cladding the kitchen wall right in the cooking zone. Easy to clean, behind the sink and as a front on the perimeter of the countertop, it becomes the perfect shield for food and oil splashes. Non-tempered lacquered glass is a normal glass with paint on the back. That means it is not a tempered glass. A high thermal shock can break it. For example, if you are cooking and a pot handle is touching the glass, it can crack.
Synthetic compacts
There is a wide variety of compact synthetic surfaces that combine the beauty and resistance of natural stone, with the safety and economy of agglomerates that arise from the alloy of quartz crystals or other minerals with acrylic polymers and resins.
One of the main advantages of synthetic compacts is that homogeneous planes can be created without the need for cumbersome joints, where dirt often accumulates. In addition, its extensive range of finishes means that you can choose from endless colors and textures, which you will also find on kitchen countertops.
Stainless Steel
It is the most technical option. Professionals often choose steel for the work surface in their kitchens. Well suited for budding chefs who are passionate about industrial looks. It is a material that is characterized by its resistance, luminosity and cleanliness. As it lacks pores, stainless steel is distinguished, in addition to being heat resistant, for its hygiene and its compatibility with food. It is also colorfast and acid resistant. For all these properties, steel is an optimal material for cooking and water zones in the kitchen. To clean it thoroughly, water and a natural microfiber chamois is the ideal union. The downside is that it scratches very easily. We must take care not to use anything sharp on it.
It is an extremely practical material. It resists heat and humidity and guarantees perfect cleaning. It usually consists of a very thin sheet (less than 1.50 millimeters) cut to size that can even be placed on an old tile front, for example. As for the finishes, there is mirror polished or brushed stainless steel. The former has the risk of being scratched easily, while the latter has an effect similar to anti-fingerprint aluminum and, although it is a bit more expensive, it is easier to clean.
Another option is the stainless-steel panels installed only on the wall of the cooking zone. It is enough to fix a thin stainless-steel sheet with silicone glue directly to the wall. This protection can be added to the existing front or it can remain as the only wall protector.
Like stainless steel, glass is another recommended option for its resistance to heat and water and for its ease of maintenance. The material used is a very solid tempered glass. It is true that it can break, but only in the event of a very strong blow. It can be clear or opaque, glossy or matte, mass tinted or lacquered. In any case, its reflective effect is especially interesting for small and dimly lit spaces. It is available in multiple colors and is ideal to give a little joy to an overly white kitchen.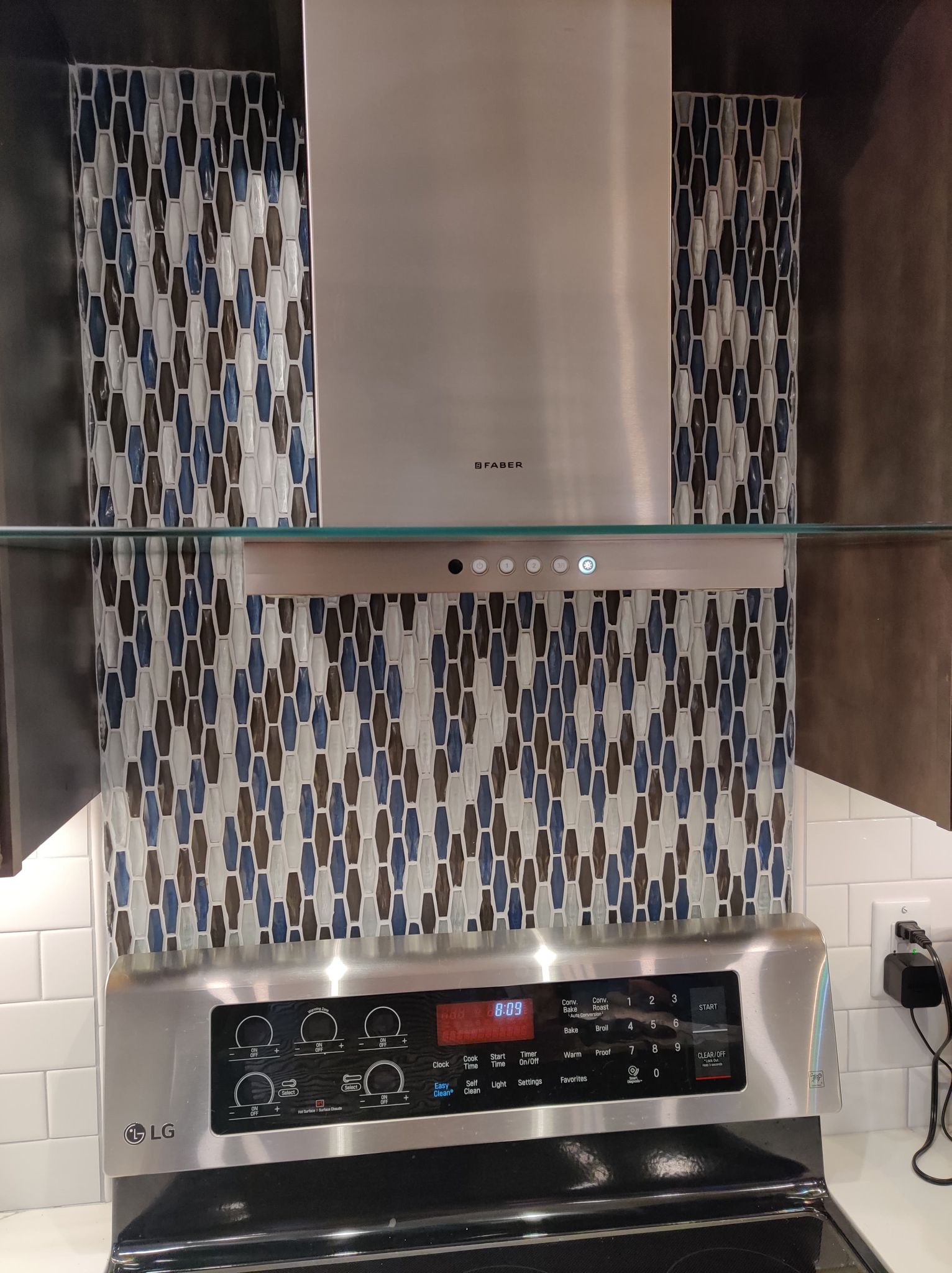 Natural stone
Slate, blue stone, or even marble are perfect materials as a countertop face: resistant and hygienic, as well as elegant. Their installation is complicated because they are very heavy materials and must be cut to size by a stonemason. In addition, the installation must be carried out by a qualified professional. In the case of installing a natural marble tile, that is, with joints, the price becomes more reasonable.
Marble
To give a touch of distinction and exclusivity to your kitchen, nothing better than natural stones. Quartz, granite, and slate are the most elegant variety. It is most popular because of its hardness and elegance. However, its price is usually higher than the rest of the options.
Backsplash Subway-type tiles
It is a coating that was used in the subway stations of the main cities of the world at the beginning of the 20 th century, making the subway tile one of the symbols of Art Deco. Lately, it is becoming fashionable again. In a gloss or matte finish, beveled or not, they are usually found in 3 x 6 inch formats and are usually placed horizontally. An economical, practical option that brings a vintage touch to the kitchen.
Mosaic
Mosaic is a coating that dates back to ancient dates and is very current. It offers timelessness and richness to the walls. The combination of colors and formats makes the room come alive and with its own style. In addition, the mosaic presents a great incentive compared to other materials of equal hardness: it adapts to curved surfaces and of any format.
Wood
Treated with protective varnishes that give it a sliding finish, to be able to clean over it and protect it, wood can become a warm and modern solution to soften the walls of work areas.
Porcelain or ceramic tiles
Within the range of tiles that we can buy in a tile store for the walls of our kitchen, we can find porcelain tiles that would be the highest-end, since porcelain tile is usually of higher quality and more expensive than tiles normal ceramics, due to the characteristics they present.
Since these porcelain tiles have a harder glaze than normal ceramic tiles, they have less absorption, so they have less tendency to absorb water vapor, or greasy products due to cooking in the kitchen, and they are the ones that today have the greatest variety of finishes, although with higher prices for both purchase and installation since these porcelain tiles must be tiled with porcelain glue cement that is higher in prices than normal ceramic tile that can be tiled with conventional glue cement.
Most of these porcelain tiles are usually large formats, 30 x 60 and up, so they tend to combine very well with more modern kitchen furniture.
The other type of tiles that we can find are normal ceramic tiles, which also go perfectly to tile our kitchen. They are usually in smaller formats than porcelain tiles, with the usual measurements between 12 x 24 to 24 x 48, ending with rustic tiles of 18 x 18 and 13 x 13.
Today, the most common way to place these tiles in a landscape or horizontal way.
Rectified tiles
Rectified tiles are a type of tile that has straight tile edges or edges, unlike normal tiles have rounded edges or edges. These tiles are rectified in order to see them more straight tiles imitating more of the natural, and with the idea that the joint is less visible, although they are not tiles without joint as some visitor to our tile store usually asks, since these tiles , as recommended by all installation standards, they must have a joint of at least 1 mm, to withstand expansion or contraction or movement of the walls, as well as to remain well placed.
These rectified tiles have higher prices than the normal ones, are usually larger than 24 x 48, and are usually laid horizontally.
To place this type of tiles you need an expert in tile placement, since having rectified edges, if they are placed incorrectly, or the pieces have a lot of curvature, we can have eyebrows on the tiles, leaving them aesthetically ugly, later of having spent good money, paying the price of these tiles.
Well placed they are spectacular, but as we say, an experienced installer is needed and that the tiles have little curvature so that they are aesthetically good.
Vitreous lining
Another trend that has been seen in kitchen tiles is the use of vitreous or mosaic cladding to tile some areas of the walls of our kitchen.
The contrast of the glass, with the rest of the kitchen furniture, makes the design that is achieved with them spectacular.
Although being 4 x 4 tiles that are joined with a special product for joints, we have to think here sometimes the dirt can be more subject, since there will be more joints.
Nothing will stick to the tile, because it is glass and will be easy to clean, but for the joints, we must first make them with specific material for good quality joints, anti-mold, anti-humidity, if we use the typical white cement to grout them, over time They will turn ugly and yellow, so we have to use a good quality grout, if it is Premium better, and then use specific cleaning products that can be found in specialized tile stores to clean this grout.
Easy to maintain and simple to clean, highlights its ability to prevent moisture. The resistance of ceramic to changes in temperature, humidity, chemical and biological agents and its hardness make ceramic a highly durable material.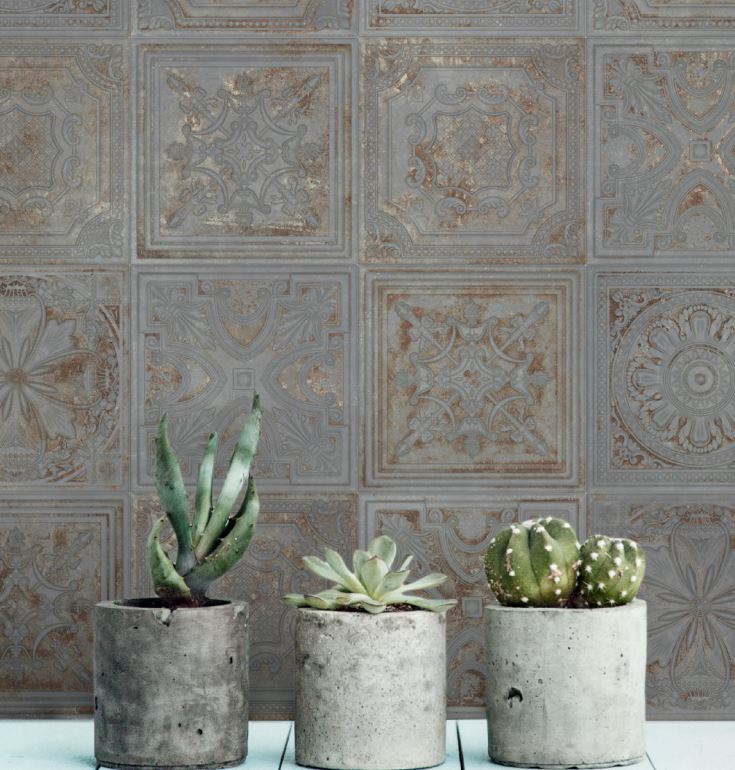 Rustic and plain finishes are still in fashion, although the latest trends are committed to innovative designs with textures, reliefs and highly successful imitations of other materials such as wood or leather.
Hydraulic tiles
The typical hydraulic tiles of modernist floors are reinvented and conquer totally new spaces. The incursion of a tapestry of imitation hydraulic pieces behind the water area gives the space an entity.
Dimensions, textures and trendy colors in kitchen tiles
Sizes
The sizes that are usually placed the most for kitchen tiles, are usually 25 x 50 or 20 x 50 in normal ceramic tiles, usually horizontally, and for porcelain tiles, sizes of 30 x 60 or larger to see less amount of together.
The rustic tiles of 20 x 20, are placed today less, since it is a fashion that is not as in vogue as the previous two.
Textures
Another aspect that tile manufacturers work a lot on is their textures, finding some that imitate fabric (linen, bags), others that imitate natural stone, although those that are most often placed to tile kitchens are smooth Thinking about their practicality, the smoother they are, the easier it is to wipe them clean.
As for the colors that are most often used in kitchen ceramics, white or light beige tends to prevail, although light grays are also used a lot in the last year, depending on the color of the furniture and the chosen bench.
Blackboard paint
Another of the booming decorative trends for the kitchen is to paint one of its walls with special blackboard paint. Why not the back? This way we will have the recipes or the shopping list always in view. Put a blackboard in the kitchen and discover your most creative side.
Whiteboard or magnetic paint
You can use both a blackboard effect wall sticker, as well as blackboard paint. Since it is not intended for kitchens, it may not last long. Magnetic paint, another option, is ideal for hanging notes or recipes.
Prepare the surface by applying a first insulating coat prior to painting. Finish with the application of two coats of special paint for countertop fronts, so that the effect is more durable.
Perforated plate
A very original front end can be a perforated sheet like the one usually used in workshops and garages to hang tools. Whether made of galvanized sheet or perforated sheet steel, it is a very resistant material.
Stone tiles
Sometimes we find pebbles, rough bricks or stone tiles as countertop face material. They are undoubtedly very beautiful materials, but very difficult to clean. If they have relief, you can cover them with a water-repellent anti-stain spray. In any case, this does not guarantee that they will not stain.
Wood
Solid wood (coffered ceiling), veneered, multilayer or laminated-glued, is sometimes used as a countertop front. It can be treated with a marine varnish, for example, to make it watertight. It is very sensitive to heat and should never be placed behind fires. To keep it looking new, fix it every so often.
It hides the water, gas and electricity pipes and allows the modules to float. The back is transformed into an active element, as functional as it is decorative, which includes all kinds of accessories for cooking at ease, making the most of vertical space like never before. This system makes the rear also one more storage module, since its panels can be opened from the front. Here is everything you need to know about the different options to choose the best kitchen backsplash.
Designation: Founder & CEO
Bio: A graduate of Ohio State University with an MBA in Business, Mike Belk has been in the tile and stone industry for over 20 years. Mike is the owner and founder of Belk Tile. He has become one of premier tile experts in the nation. Not only does Mike love every aspect of his job, he strives ensure your experience is the very best. He runs a successful blog and, when not immersed in the world of tile, is an avid golfer and wine maker. Mike enjoys interacting with customers and wants to hear from you today. Make sure to check out his
podcast of Tile Talk by Mike Belk.
---