Posted by Mike Belk on Feb 18, 2019
THESE ARE THE KEY POINTS YOU SHOULD LOOK FOR WHEN PRICING YOUR FAVORITE TILE BACKSPLASH
It's the sign of a smart shopper to be well informed when choosing a kitchen backsplash. Knowing the material and installation costs help you choose wisely between them... and could save you a bundle.
The standard size kitchen backsplash is between 15 and 18 inches tall for people of average height. The problem is, the backsplash is often an afterthought and many times is much shorter than is needed.
KITCHEN BACKSPLASH REMODELING GUIDE
With the information contained in the this guide, you can use these tips to create your budget when comparing prices between materials. The better informed you are the more satisfied you'll be with the finished product..
It will also help you stay well within your own comfortable price range.
We can help you with all your personal needs and answer any questions you may have. Call us today to speak with a Tile Specialist: 800-863-4173
Whether you're considering tile, glass, stone, metal or brick, there's a broad range of functional tile backsplash options out there to choose from.
Backsplashes are extremely useful from a practical standpoint, protecting your walls from splashes and spills. But the kitchen backsplashes that serve you best also have an eye appealing element to their design.
Here, we'll be breaking down the cost of both material and installation.. in addition to ways you can save money on both.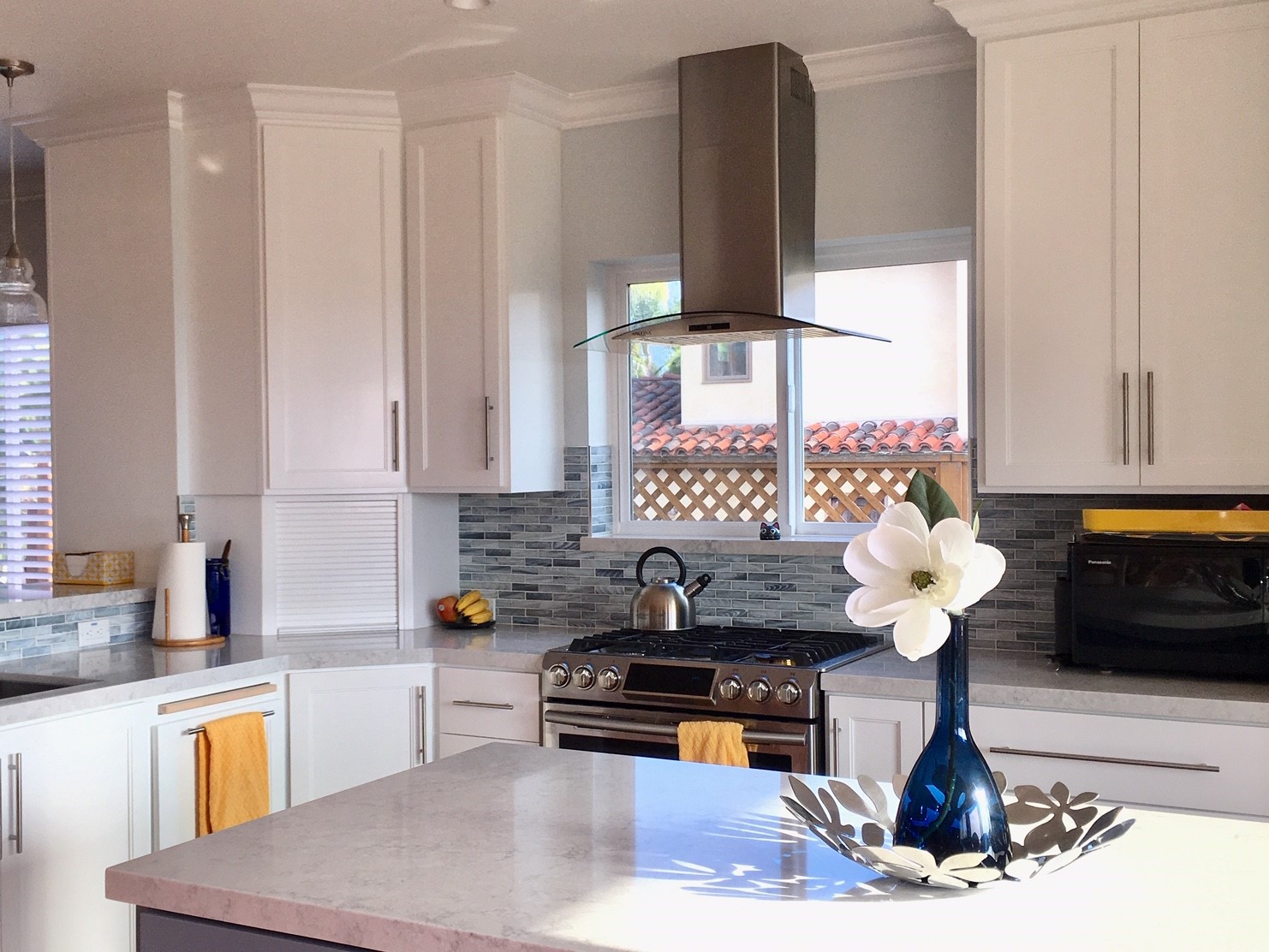 HERE ARE OF THE FACTORS AFFECTING THE COST OF BACKSPLASH TILES
There are a number of variables that can affect the cost of both the labor and material. Here are the top 6:
1. There are a minimum of three grades for most backsplash materials. They are rated as good/better/best grades.
2. Many times product lines change either due to trends in popularity or supply constraints.This can result in clearance and discount pricing for the tile you're interested in.
3. The more complex and intricate the installation process is, such as number of electrical outlets, windows, cabinets or design, the greater affect it will have on the cost of labor.
4. Labor can vary with installers, with local handymen being the cheapest and specialized tile contractors provided by a general contractor being the most expensive. Sometimes these higher costs can actually be a savings in diguise as mistakes or poor workmanship can drive up the cost.
5. The "cost of living" in your particular area has a definite affect on what is being charged. Chances are the workers you use also are in the same surrounding areas and their cost of doing business is higher.
6. It's difficult to determine this one but, competition among professional tile installers will be reflected in their bids. Whether they are experiencing a backlog of orders or not, plays a role their bids. Consider scheduling well in advance so as to avoid paying a premium for having a short notice installation.
We would suggest getting estimates from several top level tile contractors. You'll also want to get comparative estimates from some local experts.
Pro tip #1
Read client reviews, Google Business Reviews and get recent references to make sure
you're choosing the right contractor for your project.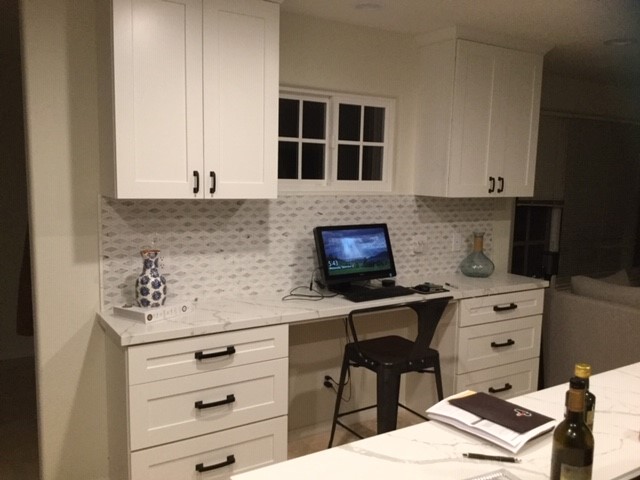 HOW TO SAVE MONEY ON KITCHEN TILE BACKSPLASHES
There are a number of things you can do to keep your costs down without sacrificing your vision.
If possible, you could remove your older backsplash tile and have it discarded to save additional labor cost. Sweat equity is always a money saver.
Look at the tiles that are on discount. These might be simply overstocked or from a cancellation. As long as there is no damage you just might find a bargain that you fall in love with.
Choosing simpler designs make the installation process easier too. Remember, the more complex the design, the more time consuming it will be.
Limiting the height and width of your backsplash cuts down on the amount of material you will need.
By choosing ceramic tile, with hundreds of great styles and colors to pick from, you'll dramatically lessen your overall cost. When we get to the cost per square foot you'll see what I mean.
Be sure your tile contractors know your getting estimates from several different ones. Competition has a way of naturally reducing the cost. You could also ask if there is a slower period that you could schedule. This may help reduce costs even further.
We're here to help with any special needs you may have.
Call us today to speak with a Tile Specialist: 800-863-4173
NEW KITCHEN BACKSPLASH TILE PRICING GUIDE
When getting backsplash tile pricing from a contractor, the price range should fall closely into these areas.
Material Cost for Kitchen backsplash tile for either sink or stove area: $2 to $40 (psf) per square foot.
The following list is a breakdown of the range of the different tile materials.
1.Ceramic backsplash tile: $2-$12 (psf)
2.Porcelain backsplash tile: $4-$14 (psf)
3. Glass backsplash tile: $7-$25 (psf)
4.Stone backsplash tile: $10-$40 (psf)
5.Brick backsplash tile: $6-$18 (psf)
6.Subway Backsplash Tile: $7-$13 (psf)
7.Stainless Steel Backsplash Tile: $67-$95 (psf)
Kitchen backsplash labor cost ranges from $5 to $15 (psf). This can be considerably higher when contracting for a custom mosaic type tile design.
Needless to say, a new tile backsplash can instantly update an out-of-date kitchen or tranform a boring bathroom design into a gorgeous new living space.
This is one of the main reasons it's considered at the top of the most popular home improvements. Even with a relatively modest budget and minimizing installation costs, a new brand backsplash can be a breathtaking transformation.
If a full bathroom remodeling is not in your budget, adding a tile backsplash will give your guest or master bathroom the look and feel of a fabulous upgrade. In most cases, either one of these installations can be completed in less than one day.
Tile backsplashes protect the walls of your home from the unsightly dings, dents, splashes, spills, moisture and mold. By protecting painted drywall in bathrooms and kitchens from becoming damaged or getting wet, they keep dampness from building up in the walls and doing major damage to your home.
Call us today to speak with a Tile Specialist: 800-863-4173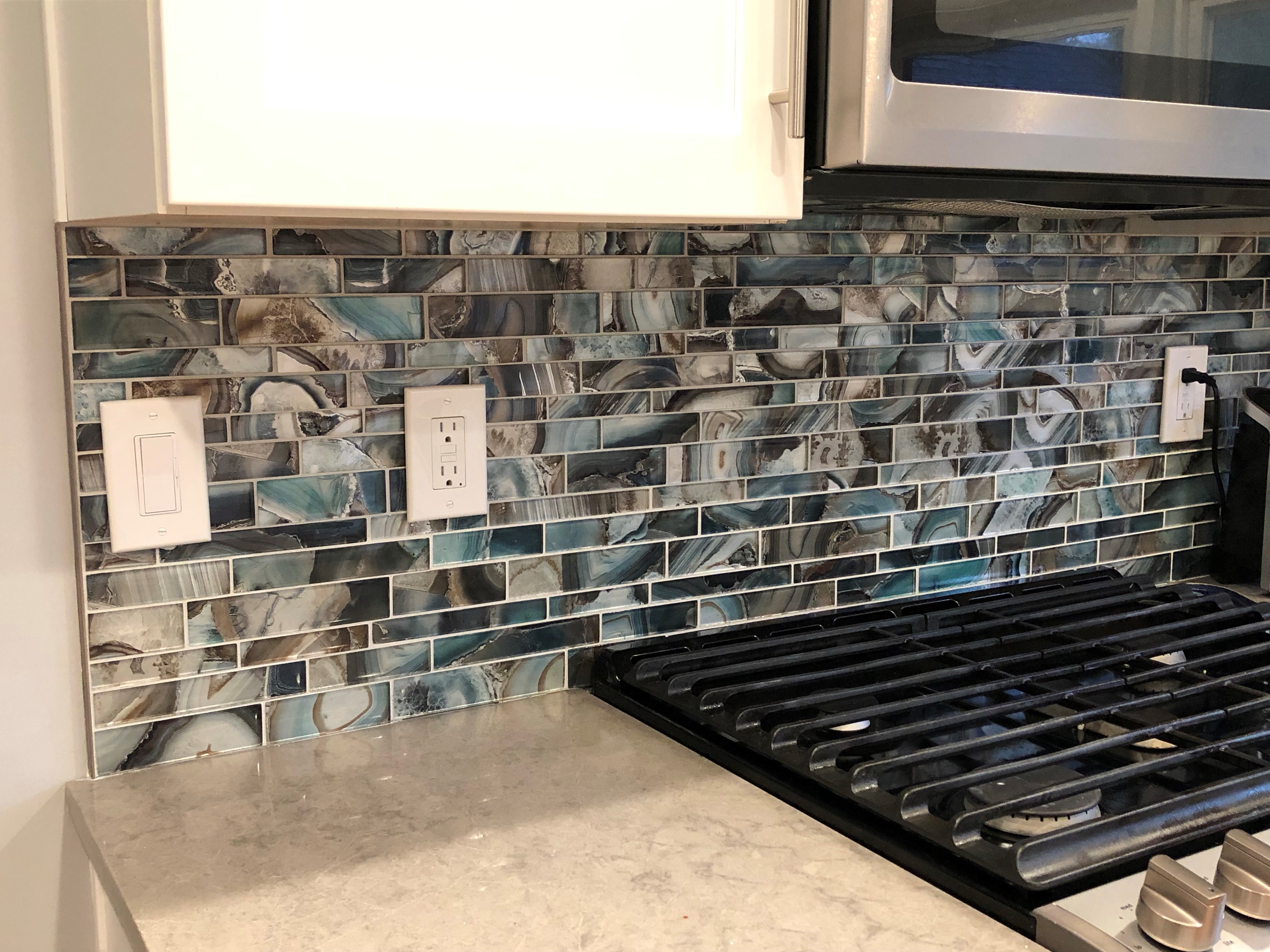 HERE ARE SOME IMPORTANT TIPS
Whether it's for your kitchen, bathroom or another important room in your house, cool glass tile neutral color can create a highly stylized modern look. Tuscany inspired ceramic tile can give it a warm, rustic interior feel.
To help you choose from the many different types of backsplash tiles, you can look to social media for inspiration. A quick search on Pinterest will turn up a lot of impressive visuals for you to compare.
You can "follow" a few different kitchen designers on Instagram or check with some local interior decorators for some fresh ideas. The tile backsplash may not be the costliest renovation to your kitchen or a bathroom, but it will have a major impact on the overall appeal to your home.
There's a lot to consider and putting in the time to get a feel for all the options is definitely time well spent. There is something truly elegant about simple, neutral colors and designs that never seem to go out of style.
Usually, the larger the size of the tiles the easier the installation will be. Less time, less labor = lower cost generally.
You'll find that basic square shapes or rectangular tiles are quite often easier to install than geometric shapes or circles. You should be able to realize a substantial cost savings by keeping the tile shape and design simple.
Stainless steel is one of the more expensive backsplash tile materials to use. It does a great job accenting modern or industrial style kitchens. You'll find it's extremely easy to keep clean and is completely resistant to staining and heat.
The average cost for professional installers of a stainless steel backsplash is about $15.00 per square foot. However, this cost can vary based on the complexity.
The less expensive alternative tiles would include ceramic, marble, stone, glass, porcelain and subway tiles.
The least expensive materials for backsplash tiles would be Vinyl and beadboard. They're simpler to install so this keeps the cost down, but they don't always hold up as well to the wear and tear that the others do.
SQUARE FOOTAGE
When a tile installation professional quotes you a price, the "unknown factor" will always play a role in the end cost. It is an unseen cost factor the same with all construction costs.
If they are working on an older home and are cutting into the walls for the first time, there's no way of knowing what they will find or what it will take to do the job properly.
If there is mold, moisture or structural damage behind the existing tiles or in the walls it must be resolved before proceeding to install the tils.
Working around unusual angles, electrical outlets and finishing edges can create challenges. The more intricate the installer's job, the more it could end up costing.
Precision work is what creates the higher cost but it is because of that precision that you would want to pay a professional. It makes much more sense to do the job right the first time.
Pro Tip #2
Your backsplash material should be low maintenance and easy to clean. Full-sheet materials like back-
painted glass eliminates grout lines. Many times quartz or any stone slab can be used as a backsplash and
laminate is another large-sheet material that is very low cost.
HERE ARE SOME COST SAVING STRATEGIES
If it's a new backsplash tile you want but don't have an unlimited budget, here are a few tips and strategies to get the look you want for less.
Using less costly materials is the obvious first choice. Ceramics and porcelain will in most cases cost considerably less than your marble or stainless steel.
Shop around for specials. You can often find deals at certain times depending on the type of material you're interested in. Choose larger tiles and simpler designs will reduce your labor costs.
If you are getting new countertops or are remodeling your kitchen, have your backsplashes done at the same time. Often times installers may offer discounts when you are having several jobs combined at the same time.
It saves them the cost of sending out a worker into one to do one job because they are already there. If it saves them money, it could very well save you money too.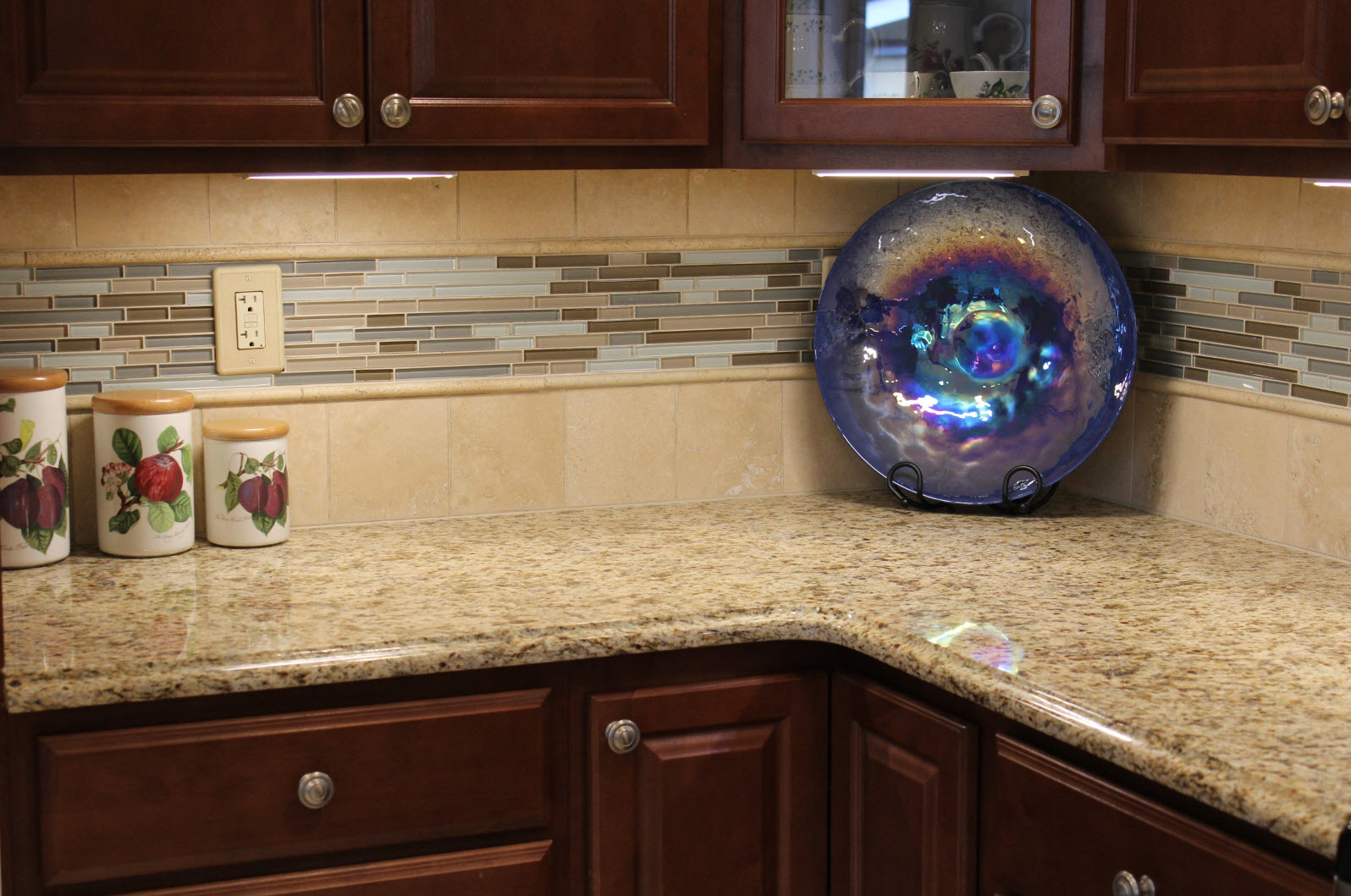 IN CONCLUSION
I hope that we've been able to answer your questions in regards to pricing and installation costs. We know how important these are to helping you to make an informed decision.
You can be confident that we have the highest quality materials from the most dependable industry leaders in design and manufacturing. You can trust that we'll always do our very best for you.
Call us today to speak with a Tile Specialist: 800-863-4173
Pro Tip #3
Purchase the tile yourself from a distributor and avoid the installer's markup. This is a very important point.
There is no need to pay more for the material than you need to if you bought it direct from the supplier.
Do yourself a favor and save the money by going direct to the source.
Designation: Founder & CEO

Bio: A graduate of Ohio State University with an MBA in Business, Mike Belk has been in the tile and stone industry for over 20 years. Mike is the owner and founder of BELK Tile. He has become one of premier tile experts in the nation. Not only does Mike love every aspect of his job, he strives ensure your experience is the very best. He runs a successful blog and, when not immersed in the world of tile, is an avid golfer and wine maker. Mike enjoys interacting with customers and wants to hear from you today. Make sure to check out his podcast of Tile Talk by Mike Belk.
---