Posted by Mike with BELK Tile on Mar 15, 2018
GLASS TILE BACKSPLASH DESIGN – CREATING THE PERFECT GLASS TILE KITCHEN BACKSPLASH

If you've been thinking about upgrading the look and function of your kitchen by installing unique glass tile backsplash designs the diverse sizes, colors and patterns available today can turn your remodeling dreams into reality. They say that one of the best perks of owning a home is designing each room to match your style, personality and create the warm look that all home owners search to create. And installing a glass tile kitchen backsplash is a great way to begin this creative concept.
More people are choosing to upgrade their kitchens with glass tile than ever before for several reasons.
GLASS TILE BACKSPLASH DESIGNS ARE HIGHLY CUSTOMIZABLE DUE TO THE VAST SELECTION AVAILABLE TO HOME OWNERS AND DECORATORS WHO SEEK A TRULY UNIQUE DESIGN FOR ANY GLASS TILE PROJECT.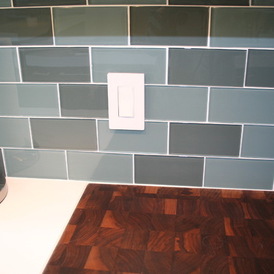 Today's glass tiles are manufactured in multiple sizes, shapes, colors and textures to ensure that you can create the precise kitchen backsplash that will bring your kitchen to life. Whether you choose square tiles or rounded tiles, ones that are colored – or transparent, the sky is truly the limit with the many options available with today's glass tile kitchen backsplash upgrades.
Some of the more popular styles installed in houses across the country include:
Aventurine glass tile: This earth-to-sky toned tile truly stands out in any kitchen. Available in ¾ x ¾ inch sizing, home owners looking to improve their kitchen can choose from a large palette of opaque and translucent colors that are enhanced by nature inspired shades which can truly revitalize any kitchen. There are many subtle shade differences in each sheet and provide a truly stunning design feature for your kitchen.
The Avons Series glass tiles: The Avons Series are created to be 8mm thick, and are available in solid color and blended color options. They are designed for both interior and exterior application which makes them extremely diverse and make the design options virtually limitless. Each sheet is (1) square foot in size.
Classic glass tiles: Of all the options available for glass tiles, the Classic line is most likely the most traditional. Each section of the tile is unique; offering several variations in shape, hue, shading and texture to provide a truly unique and engaging style – no matter where they are placed.
When these specific glass tiles are installed correctly the beauty of a glass tile kitchen backsplash can be truly revealed. It's amazing how diverse glass tile backsplash ideas can be when you start by using a wide selection of materials. And when you're looking to buy affordable glass tiles which will allow you to turn your glass tile backsplash designs into reality, a great online resource is BelkTile.com.
In today's online shopping world, finding a website and company who takes pride in making sure your online safety and personal information stays private is extremely important. Your personal privacy is protected by using the SSL security enhanced shopping carts provided by BelkTile.com and as such, you can trust that when you order discount tile backsplash materials or any other tile products, your private information will remain private and a safe shopping experience will be conducted.
BelkTile.com makes the shopping experience easy and affordable. Visit the safe and secure online collection of stylish backsplash glass tiles today.