Posted by Mike Belk on Jun 08, 2014
Are Subway Tiles still Popular?
Subway tiles first became popular in the 1900s, when New York's underground transit stations – the walls of which were plastered with the white ceramic tiles – opened. Today, they are as popular as ever. The classic rectangle shape of the subway tile makes it suitable for kitchens, bathrooms, and other parts of the house. They are easy to maintain, easy to install, and are versatile. They can be used both indoors and outdoors. Today, if you want to use subway tiles, there are two main options: luxury and discount.
How to use
discount subway tile
Don't discount the beauty and durability of a discount subway tile. They can be used just like high-end subway tiles.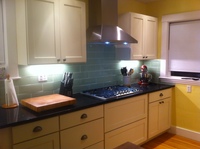 Subway tiles can be installed horizontally or vertically. They can be used to create a herringbone pattern, a zigzag pattern, a basket weave, and many other configurations. Though classic white subway tiles are the most popular option, they are also available in a myriad of colors, textures, and designs. The contemporary look and clean lines of subway tiles look great in a kitchen backsplash, in the bathroom, and even around a fireplace. They can also be used as accents, mosaic listellos, and borders. You can install them with grout that has a matching color or emphasize the pattern by using a contrasting-colored grout. Subway tile is relatively inexpensive and is easy to clean.
Luxury subway tile vs.
discount subway tile
There are very subtle differences between a luxury or even regularly-priced subway tile and a discount subway tile. These small variations may not be easily apparent to the untrained eye.
Discount subway tiles, being mass-produced, have a uniform look. They have a bright white finish from a machine-applied glaze. The tile itself is machine-pressed from steel molds and consist of talc and white clay pellets. The edges of mass-produced discount subway tiles are mostly straight and clean, making installation a breeze. You can score and cut them with a hand tool for a better fit.
Meanwhile, high-end tile has a warm white finish from a hand-mixed and machine-applied opaque glaze. The tile itself is made of Mexican clay and talc, is machine-cut, and is then hand-trimmed. The edges of high-end subway tiles are sliced instead of molded, so there are slight variations. An expert tile setter will need to cut them with a wet saw during installation.
Designation:
Founder & CEO
Bio:
A graduate of Ohio State University with an MBA in Business, Mike Belk has been in the tile and stone industry for over 20 years. Mike is the owner and founder of Belk Tile. He has become one of premier tile experts in the nation. Not only does Mike love every aspect of his job, he strives ensure your experience is the very best. He runs a successful blog and, when not immersed in the world of tile, is an avid golfer and wine maker. Mike enjoys interacting with customers and wants to hear from you today. Make sure to check out his podcast of Tile Talk by Mike Belk.
---