Posted by MIke Belk on May 06, 2014
The addition of a backsplash to the kitchen is a quick and fairly easy way of increasing the aesthetics of the cooking space. It also eliminates the monotonous vibe of the room. Luckily enough, there are a variety of backsplash designs to choose from. These are mainly stone, metal, glass, ceramic, and shell.
In creating the perfect look for a kitchen, there are three things to consider: budget, scope, and theme. The budget is self-explanatory and varies from person to person. Scope refers to how much backsplash the room needs. Smaller kitchens should not be completely covered in backsplash as it tends to overwhelm other design elements of the room. Theme involves the type of materials to be used, the color scheme, and the overall layout.
Without a doubt, ceramic tile would be the immensely popular and classic choice of backsplash designs. It can be defined in three words: durable, cheap, and varied. These make it a good choice for any traditional kitchen.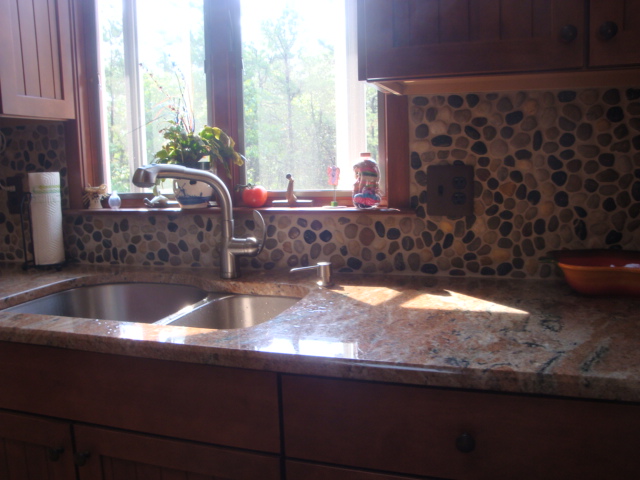 A more trending and modern choice is glass tile. They are low maintenance and are perfect for the busy home. However, the main selling point is believed to be its glittery, polished finish that cannot be mimicked by the other backsplash designs.
Metal tiles have been gaining popularity in recent years. This variety of backsplash designs gives off a handsome, contemporary, sturdy appearance that cannot be missed. It has a smooth, shiny surface with a matte gun metal finish that adds depth and definition to any room.
To achieve a more earthy look, stone tiles would be the ideal choice. That is because, unsurprisingly, they are made of actual stone. However, slight imperfections may be present at times due to the method with which it was made. But this is not a point of concern as it only contributes to the natural look.
Shell tiles bring a hint of the outdoors to the comfort of one's own kitchen. Being an uncommon choice of backsplash designs makes it all the more unique and brings that extra pizzazz to the work area.
Although there is a wide array of backsplash designs to choose from, the most important thing to consider is personal preference. Choosing a design solely for its popularity would not do the eyes justice. The best thing a homemaker could do is to choose a presentation that they consider visually appealing. Happiness can be achieved in such a simple way.
Designation: Founder & CEO
Bio: A graduate of Ohio State University with an MBA in Business, Mike Belk has been in the tile and stone industry for over 20 years. Mike is the owner and founder of Belk Tile. He has become one of premier tile experts in the nation. Not only does Mike love every aspect of his job, he strives ensure your experience is the very best. He runs a successful blog and, when not immersed in the world of tile, is an avid golfer and wine maker. Mike enjoys interacting with customers and wants to hear from you today. Make sure to check out his
podcast of Tile Talk by Mike Belk.
---