Posted by BELK Tile on Aug 03, 2014
When people think about decorating their kitchen, changing their backsplash tiles is usually not the very first thing that enters their mind. Most of the time when people install backsplashes, they just leave it as a solid color like white or black. They do not bother making it look pretty because it is going to get dirty anyway.
The good news is that there is way a for backsplash tiles to look great and still be functional and durable at the same time. It no longer has to be just plain white. People can think of the most creative glass subway tile backsplash ideas.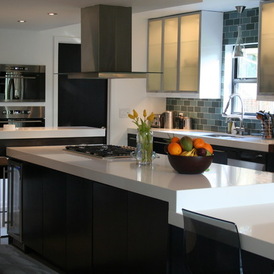 There are several resources that a person can use for inspiration for fresh backsplash ideas using glass subway tiles. People can always go to home decorating sources for inspiration. People can also look for creative ideas online. They will find that the sky is the limit when it comes to backsplash tiles. It doesn't have to be just plain white. It can be as colorful as anybody wants to, and yet still be very functional.
Some of the glass subway tile backsplash ideas include different patterns and colors. One must always remember that one is not just limited to one type of tile. They can always choose from a wide array of tiles. These people just have to be sure that the tiles that they choose is actually meant for backsplash use. They have to make sure that it is durable and is very easy to clean.
Better yet, people can combine several different tiles for an effect unlike any other. All people have to do is put the matching colors together. They can arrange it in any way that they want to. This is a great way to give the entire kitchen or bathroom a complementing look. The difference between a plain backsplash tile and one that is decorated is extremely noticeable. It could really make or break the entire look of the kitchen.
People should be always open to new ideas. Although it may take a little more effort, it is a process that is worth doing. It is a way for a person's kitchen or bathroom to stand out from the rest of the kitchens or bathrooms in the neighborhood.