Posted by Mike Belk on May 15, 2014
A practical yet creative way of protecting the kitchen wall is by installing a stained glass backsplash . It is the preferable option for busy homemakers who don't have a household helper as it is composed of sturdy materials that are easy to clean. It is smooth, appears glossy, and glistens from every angle. What's more, it adds that "wow" factor and creates a one-of-a-kind look to the kitchen.
The creation of stained glass is done by adding metallic salts during the manufacturing period to dye it different colors. Furthermore, because glass can be tinted in any shade, it is available in a wide variety of hues. As a matter of fact, certain manufacturers provide clients the opportunity to request a specific color for their glass tiles. There are usually glass tile samples and swatches available in home decorating stores.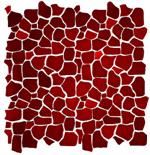 The homemaker has the freedom of experimenting with shapes, designs, and colors as the stained glass backsplash can be manipulated in various ways. Mosaics are currently the trending choice because of the array of colors and styles available. Most mosaic backsplashes use a combination of glass and natural stone tiles, which create more drama. A suggested method is to pick up the colors of small bits or decorations around the room and incorporate them into the backsplash. This method balances out the colors and enhances cohesiveness.
Another way to use the stained glass backsplash is by placing the darker colored tiles on one side of the wall and gradually aligning lighter tiles toward the other end of the wall. This creates a monochromatic effect that brings the glass tiles together, as does the material itself. More intricate designs can be created by arranging small pieces of glass to form patterns or pictures. However, it is not an easy task and requires master craftsmanship. It may not be a common choice for homemakers, but it is definitely and eye-catcher that can break the straightforward nature of the kitchen or add sass to an elegant workplace.
It is also important to take into consideration the color scheme. Red, orange, or yellow-colored glass emanates a warm atmosphere while blue, green, or purple-tinted glass gives off a cool ambiance. A color wheel may be utilized for the selection of hues.
Ultimately, the stained glass backsplash paves the way for a variety of artistic possibilities. It sets the mood of the area with a splash of color. A presentable kitchen creates a more pleasant work environment for the cook.
Designation: Founder & CEO
Bio: A graduate of Ohio State University with an MBA in Business, Mike Belk has been in the tile and stone industry for over 20 years. Mike is the owner and founder of Belk Tile. He has become one of premier tile experts in the nation. Not only does Mike love every aspect of his job, he strives ensure your experience is the very best. He runs a successful blog and, when not immersed in the world of tile, is an avid golfer and wine maker. Mike enjoys interacting with customers and wants to hear from you today. Make sure to check out his
podcast of Tile Talk by Mike Belk.
---