Posted by BELK Tile on Jun 15, 2014
Glass and metal tiles create an interesting juxtaposition of translucent and metallic, masculine and feminine, and hard and soft that somehow harmonize perfectly with each other. The metal adds style and flair while the glass adds light and shimmer. Together, the two kinds of tiles create a combination that adds a refined sensibility to any room . Here are three ways to use metal and glass tiles together.
Use glass and metal tiles in the kitchen.
This combination lends a clean, contemporary look to the kitchen. Use it to create a simple backsplash treatment with great aesthetic impact. A glass-and-tile backsplash is modern, luxurious, chic, and will make your kitchen glow. Depending on the shapes and colors you use, it can lend a rustic look that adds warmth to a contemporary space or impart sleekness and a hint of the avant-garde to a classic country kitchen. Install it from countertop to ceiling to section off an area of the kitchen and create distinctive areas for cooking, prepping, and washing. Then use glass and metal separately in the other areas. The mix of glass and stone keeps things cohesive and visually links the different areas to each other.
Use glass and metal tiles in the living room.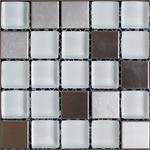 Use a combination of the two to line a fireplace or to create an accent wall. You can stick with neutral color palettes or, for the adventurous, go wild with shapes and colors. The layered look created by glass and metal adds dimension to walls. Together, the mixture of the shimmering transparency of glass and the burnished finish of the metal produces an interesting texture and a distinctive design that you can use to create a focal point in the space.
Use glass and metal tiles in the bathroom.
Metal and glass tiles used together in a backsplash or shower enclosure provide another design dimension. Slender metal and glass tiles are trendy and are perfect for the shower, where they suggest a sense of rippling water. The combination of glass and metal makes a serene backdrop that provides a bit of calm for the eyes. Use metal and glass tiles in soothing colors and simple linear shapes to impart a look that is modern but not cold, and playful but not chaotic.