Posted by Mike Belk on Nov 10, 2016
Glass Subway Tiles: How to Make a Little Kitchen Bigger
Some of us have kitchens that feel more cramped than we'd like. Enter glass subway tiles. We're sharing this trick and more to help your kitchen feel bigger.
TV kitchens are always immense spaces, filled with dream gadgets and large enough to fit some entire apartments into.
The reality rarely matches up.
So, you have a little kitchen, and you want to make it look much bigger than it really is. Read on to find out how glass subway tiles can help!
Glass subway tiles aren't just for your backsplash
Named for the tiles used in the New York City subway when it opened in 1904, the trend for white subway tile backsplashes shows no signs of slowing down.
Installing a backsplash is also something you can easily do yourself. Just make sure you have a wet saw to make cutting the glass tiles easier if you need to install them around power outlets.
But there's nothing stopping you installing the tiles across all of your walls. Given their durability, it'll make cleaning your kitchen a piece of cake when the walls are essentially wipe-clean!
In fact, you can often just use vinegar to wipe down your glass surfaces, making cleaning your kitchen cheaper, as well as easier.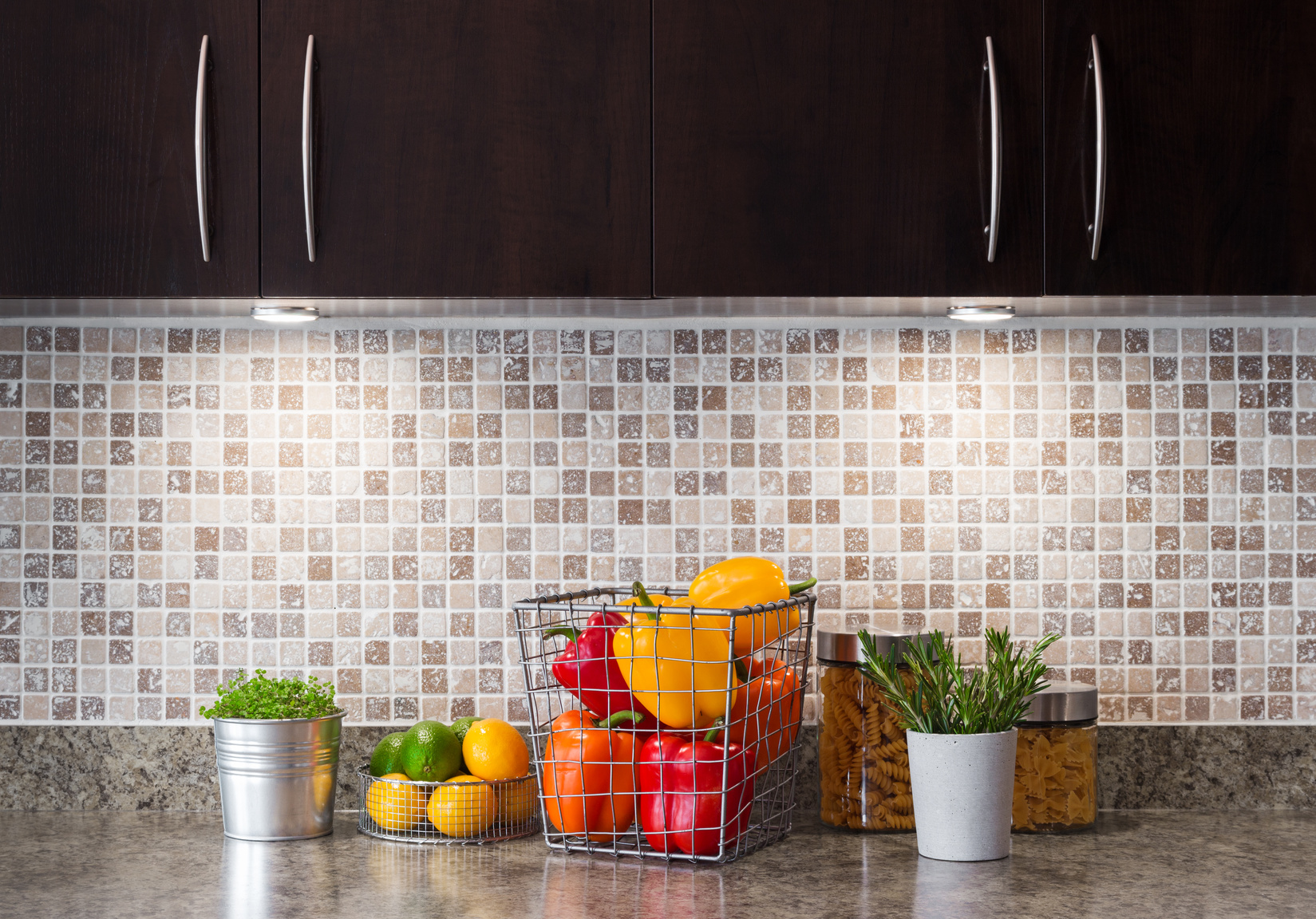 Make the most of your lighting!
Lighting in a kitchen is probably the easiest way to make the room appear larger.
If you can, maximize natural light as it's a simple (and free) resource to help alleviate cramped kitchens.
Try and keep things away from the windows to let in as much light as possible. If you do need to use a blind, use an opaque shade that keeps prying eyes out but still lets light in.
But, obviously, you'll still need ambient lighting to supplement daylight. Avoid low-hanging pendants and go for smaller lights that don't make the ceiling look lower than it really is.
Reflective surfaces can also help you make the most of your lighting. Look at using marble countertops or stainless steel appliances. If you install lights under your cabinets, you can also maximize your work spaces.
Undercabinet lighting will also help to draw attention to your glass subway tiles. They really help to reflect the light and bright spaces instantly look larger. Not only that, but the chamfered edges of the tile diffuse the reflection to avoid harsh glare.
Another of the advantages of the tiles is the use of clear glass over a colored back. This helps add a luminescence to your walls, and a level of depth that draws the eye in. Glass subway tiles offer a much richer and brilliant use of color than the ceramic alternatives.
The glossiness of the glass tiles will really help you to make the most of the lighting that you have.
Use color to expand the look of a room
Using white to make walls recede is a tried-and-tested trick that has helped many a small room appear larger. But be careful, because using all-white can make a kitchen feel too sterile.
Combat this by using shades of white and use different textures in your furnishings to break up the monotony of a single color.
At the same time, super deep tones like navy or chocolate surprisingly recede visually. The walls look like they're actually further back.
But whatever you do, use a color scheme with few differences in shades. The eye won't trip over sudden shifts from dark to light.
That means no using white paint on the walls and dark blue on the backsplash. It'll make the room look smaller, and counteract the benefits of using glass subway tiles.
And make sure you stick to a similar shade for your grout. Too much contrast between tile and grout will undo all your good work in making the walls appear further away!
Patterns in your tile layout can also make the kitchen look larger
Consider using patterns with your tiles to make a space look bigger, too. A herringbone pattern can help to draw the eye upwards, making your kitchen appear taller than it is.
One option for making your kitchen look bigger is to install open shelving, rather than cabinets. Shelves have less visual bulk, and you can continue your glass tiling behind the shelves.
This helps to create a seamless look that minimizes the impact of shelving.
You can extend these principles to your flooring materials too. Alternating pale and medium tones of a similar shade will help to stretch the width of the room.
Larger floor tiles will also help to create an illusion of space. Use tiles that are larger than 18" and it fools the eye into thinking a space must be larger than it is to accommodate such big tiles!
Consider other design options around your tiles
If you can remove part of a wall you can open up the kitchen into a neighboring living or dining room. While the kitchen size essentially remains the same, it will alleviate that cramped feeling.
It'll also let in more light, which means you can really make the most of the reflective aspects of your glass subway tiles. You may even be able to alter the type of lighting that you use in the kitchen area.
If you have a wall recess in your kitchen, you can make the most of it by adding shelves and turning it into a shelving unit. Make sure you trim them to match the surrounding woodwork.
Alternatively, you could always install the same tiles at the back of your recessed shelving. This'll help to continue your seamless color scheme, and draw the eye around the room.
If you can't swap your cabinets for shelving, then try changing the doors. Choose doors with glass panels, rather than solid fronts. This will guide the eye into the cabinet toward the wall at the back.
It's a neat optical trick - the wall hasn't moved but because you can now see it, instead of a cabinet door, it looks further away!
When you're choosing furniture, go for smaller items.
Alternatively, choose furniture with slim legs. If it's made of stainless steel, all the better! It'll help add to that glorious reflection from your glass subway tiles.
Whatever you choose to do, if you put glass subway tiles at the center of your kitchen redesign, you're sure to make the room look bigger. And as the kitchen is the heart of any home, surely it deserves that kind of attention?
Click here to discover our range of glass subway tiles for your kitchen!